A wireless network is something most people take for granted. When it is working, no one notices. The moment it starts to act up, usually slower speeds, you notice and get upset. Thankfully, there are a few things you keep in mind when setting up, or updating, your wireless network to help provide the best experience possible.
There have been times where friends and family members have asked:
Which WiFi band should I use? 5Ghz or 2.4GHz? What difference does it make? How many devices can I connect to my WiFi?

Friends
What is a dual band router?
The easiest way to explain this is that most modern day wireless routers feature dual band wireless networks. One band operates at 2.4GHz and the other at 5GHz. During setup, the router will ask you to create a network name (SSID) and password for each band. Some WiFi routers will allow you set one name and password for both bands, but we do not recommend it. Having two names allows you to manage which devices connect to the 2.4GHz and 5GHz bands.
What's the Difference?
The 2.4GHz WiFi band has been a standard for a while, it offers up decent speeds but allows for a lot of coverage and range. The 5GHz WiFi band and allows for really fast WiFi speeds, but the coverage and range is weaker. Simply put 2.4GHz is for range and 5GHz is for speed. Since 2.4GHz WiFi band is so widely used, it's a heavily congested band. This will cause issues with all devices on your network, because that band is used by other wireless routers too, so they all compete in that space. 5GHz is way less congested making it ideal for speed and more stable connections.
Which WiFi Band Should I Use?
As we stated before, when setting up your WiFi network, name 2.4Ghz and 5GHz different names. For example, wireless-2.4 and wireless-5. Now to answer the question, which one should you use? The answer is both. Having the different names, this allows you to customize which WiFi band your devices use. Giving you more control over your WiFi network and how it is used.
Examples
Now lets take a look at some examples of devices you might connect to your WiFi network and which WiFi band you should use. This list is not comprehensive. It will give you a better idea on determining which WiFi band works for your devices. The one rule we are using is the bandwidth needs of the device in question. Some devices will not support 5GHz, at which point, you have no option.
Use 2.4GHz for low bandwidth devices, such as:
Smart Devices
Fitness devices
Printers & Scanners
Scanners
User 5GHz for high bandwidth devices, such as:
Laptops, streaming devices, security cameras, and tablets are heavy bandwidth users. But, because of range issues, those devices may need to connect the 2.4GHz WiFi band to be usable. Check out how streams or video feeds or downloads perform with these devices on both 5GHz and 2.4GHz bands. This will help determine if range is an issue. Use the WiFi band that provides a more stable connection.
Why Not Just Use 5GHz?
When speed is a concern, then you should use the 5GHz WiFi band. Not many devices will benefit from the speed 5GHz offers.
A more technical explanation is that the more devices you connect to the 5GHz WiFi band, means the more devices that are attempting to hog more of your internet bandwidth. Say you have 10 devices connected to your 5GHz WiFi band. Now, say they are all actively transmitting and requesting data. In the end, your connections will most likely result in slower speeds for all your devices across all WiFi bands.
According to the Experts
Whenever a device connects to your Wi-Fi network, it has to fight with other devices for bandwidth (internet speed). A TV streaming Netflix, a laptop downloading, an Xbox Live gaming session — they all want the fastest connection. But there's only so much bandwidth to go around. Your bandwidth is stretched thin, resulting in a slower connection.

Google
However, since the router's wireless channel is shared between all the wireless clients, adding clients will inevitably result in slower network access for all clients. This will be particularly noticeable if some of the clients are using a lot of wireless bandwidth, for example by watching a video or doing a torrent download. Therefore, the maximum number of wireless clients that will operate satisfactorily while connected to the same router will vary depending on what the devices are used for. It will also vary depending on how much wireless congestion or interference are present in the location where the router is installed.

Netgear
Final Thoughts
Not all WiFi routers are created equal. Most WiFi AC routers will have more bandwidth capabilities than WiFi N routers. You will still end up seeing slow down issues on AC devices, but the effects will be much less than that of WiFi N routers. If speed is a concern, then manage which devices use your 2.4GHz and 5GHz WiFi bands. If you still see some issues, look into updating your WiFi router to an AC1200 or better device.
Deleting your personal data, like web searches, can be a daunting activity. You need to take it seriously. If you do not, then other people have the potential to find that data. Below, we break down how to better delete your personal data.
Smartphone or Tablet
We have all been here, you're selling an old phone or tablet, or donating it to someone or some place. Regardless, the device is will no longer be in your possession. Because of this you want to be 100% sure everything is gone from said device. No body wants to find out their Facebook account was accessed from an old device being used by someone else.
Thankfully, most smartphones have made it relatively easy to securely wipe data from them. As long as your data has been encrypted, your data is protected. Most Android and iOS devices are encrypted right out of the box. Because your data is encrypted, factory resets make it almost impossible for any data to be recovered. Here's how your factory reset your devices:
Android
Go to Settings > System > Advanced > Reset > Erase all data (factory reset)
Tap through each confirmation prompt to confirm the factory reset.
iOS
Navigate to Settings > General > Reset > Erase All Content and Settings
Note: For either device, make sure you have all of your photos, music, or anything else backed up and securely stored somewhere.
PC or Laptop
Windows and macOS make securely wiping your pc or laptop easier, and more secure, than it used to be. By default, Windows 10 does not encrypt your data. The upside, Windows 10 can securely erase your files during a reset. Meaning that recovery programs will not be able to grab any data after the reset.
Windows 10
Go to Windows Settings > Update & Security > Recovery
Click Get Started, under Reset this PC, and choose Remove Everything
macOS
By default, OS X Yosemite and newer will encrypt Mac's with a tool called FileVault. Make sure this feature is running via Apple > System Preferences >Security & Privacy > FileVault. Enable this encryption if it is not already enabled. Once encrypted your data will be impossible to recover after a full reset.
Go to Apple > Restart
Hold CMD + R as your computer restarts
Choose Disk Utility from the options list and select your drive
Click Erase
Select Mac OS Extended (Journaled)
Click Erase
Web Accounts
Going through every web account and how to delete it is an impossible task. Therefore, we can provide you with some general guidelines on what you should do though. Most websites will maintain your data, post delete, for 90 or more days.
Example Web Account: Facebook
From your Facebook account, open Settings
Click Your Facebook Information
Optional: Click Download Info
Click Delete Account
Example Web Account: Google
Google maintains a lot of data about you. Thankfully they provide you that data via your My Activity page. From this page you can adjust various data logging levels by clicking Activiy Controls. Lastly, clicking Delete Activity will take you a page where you can choose what data you want deleted from your account. If you choose to delete everything, make sure to get a copy of your data from Google Takeout.
Example Web Account: Apple
Apple also makes things pretty painless for deleting your data they have collected. Simply go online, sign into your Apple ID account, click Request to Delete Your Account, read through the disclaimer, and confirm your choice to delete the account.
Other Personal Data
PCs, laptops, phones, tablets, and social media accounts are not the only areas that have collected personal data from you. For example, smart home speakers, like Amazon Echo or Google Home, collect data on you as well. The data Google Home collects can delete be delete from the same My Activity page we wrote about earlier. Amazon will allow you to delete your Echo's voice recordings from your Amazon Devices page.
Cloud Storage services, like Dropbox, will probably keep copies of deleted files in case you need them at some point in the future. Features like this are great when you need to recover something you realize you still need. However, this feature is not great if someone gains access to your account, because they can easily go digging around and recover those files as well. In the end, if you have something sensitive that you need to delete, especially from cloud storage, you need to make sure it's actually deleted.

Example Cloud Storage: Dropbox
If you haven't already, delete the files you want to permanently delete.
From the file browser, click the trash can icon to show deleted files.
Once you find the file or folder you'd like to permanently delete, hover your mouse pointer over the file or folder name, and check the checkbox that appears.
Click Permanently delete.
Click Permanently delete in the pop up that appears.
Example Cloud Storage: Google Drive
Unlike Dropbox, Google Drive allows you to permanently delete multiple files or all of your deleted files.
Empty your entire trash
On your computer, go to drive.google.com.
On the left, click Trash.
Make sure there are no files you want to keep.
At the top, click Empty trash.
Delete an individual file forever
On your computer, go to drive.google.com.
On the left, click Trash.
Click a file.
At the top, click Delete forever .
Example Cloud Storage: OneDrive
OneDrive, like many cloud storage services, will store deleted files in a Recycle Bin. From there you can restore files, if you need to. You can select Recycle bin in the OneDrive left side navigation
To permanently delete specific files or folders from the recycle bin, select those items, then select Deletein the top navigation.
To permanently delete the entire recycle bin at once, select Empty recycle bin in the top navigation.
Regardless of the device or web account or service, it is always a good idea to make sure your data is deleted properly. We have only listed a handful of examples and how to delete your data properly. A simple web search should help you figure out the best route for deleting your data from whatever device, account, or service you use. If anything, you will learn more about the data you leave behind, something you do with out realizing it. Trust us, it's worth the extra effort to protect yourself and your data from leaking out into the wrong hands.
Android 9 Pie is finally here for everyone who own Pixel devices. Then all other eligible Android devices will get the update. I have been running Pie on my Pixel 2 XL for over a week now and here are some of the new features Android 9 Pie bring to your device.
1. Adaptive Battery
Google has been working hard at maximizing battery usage for Android for some time now. The latest step in maximizing your battery is Adaptive battery. Android will learn over time which apps are most important to you and prioritize battery usage for them. This means apps you rarely use will not hog as much battery as they used to in previous versions of Android. With this feature on, low priority apps will see a delay in notifications to your phone. And yes, Battery Saver is still a part of Android, which helps squeeze out as much battery life as possible when your already low on battery power.
2. Adaptive Brightness
Android has always had an auto brightness control, but it only used the phone's light sensor to make adjustments.  Adaptive Brightness is another smart/learning feature for Android 9. Over time, the feature will use ambient light levels, you brightness adjustments, and the apps you use to help build better brightness profiles tailored to your phone use.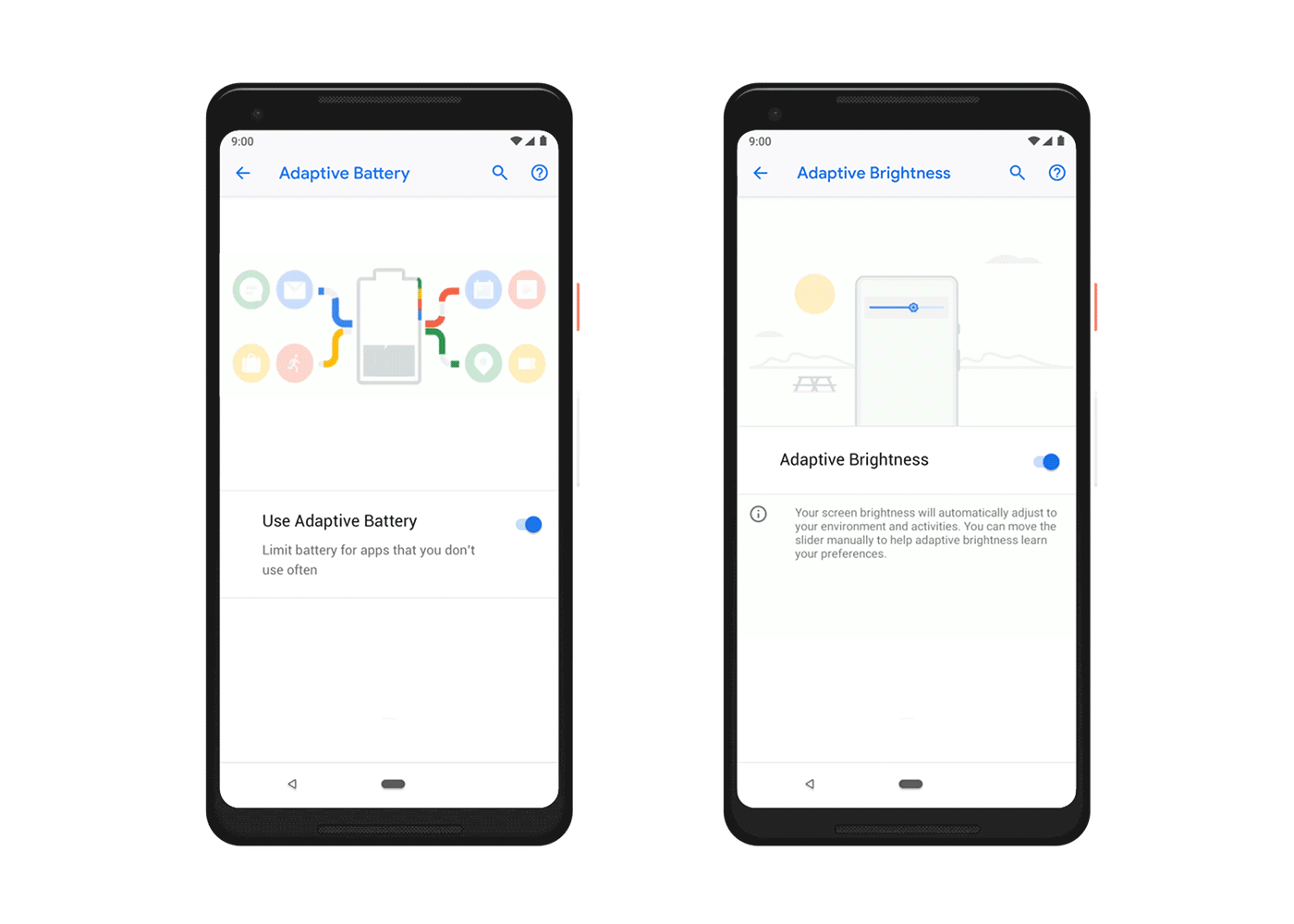 Image - Google
3. App Actions
Android will start creating customized shortcuts, for you, in the app drawer. The customized shortcuts are based on how you use your home. For example, over time Android 9 will learn that Tuesday morning around 8 am you typical use navigation and listen to an audio book during your morning commute. This will in turn prompt Android to start providing app shortcuts in your app drawer for for those two options. Android will also provide a shortcut to a favorite artist on Spotify, or favorite music application, when you connect headphones to your phone.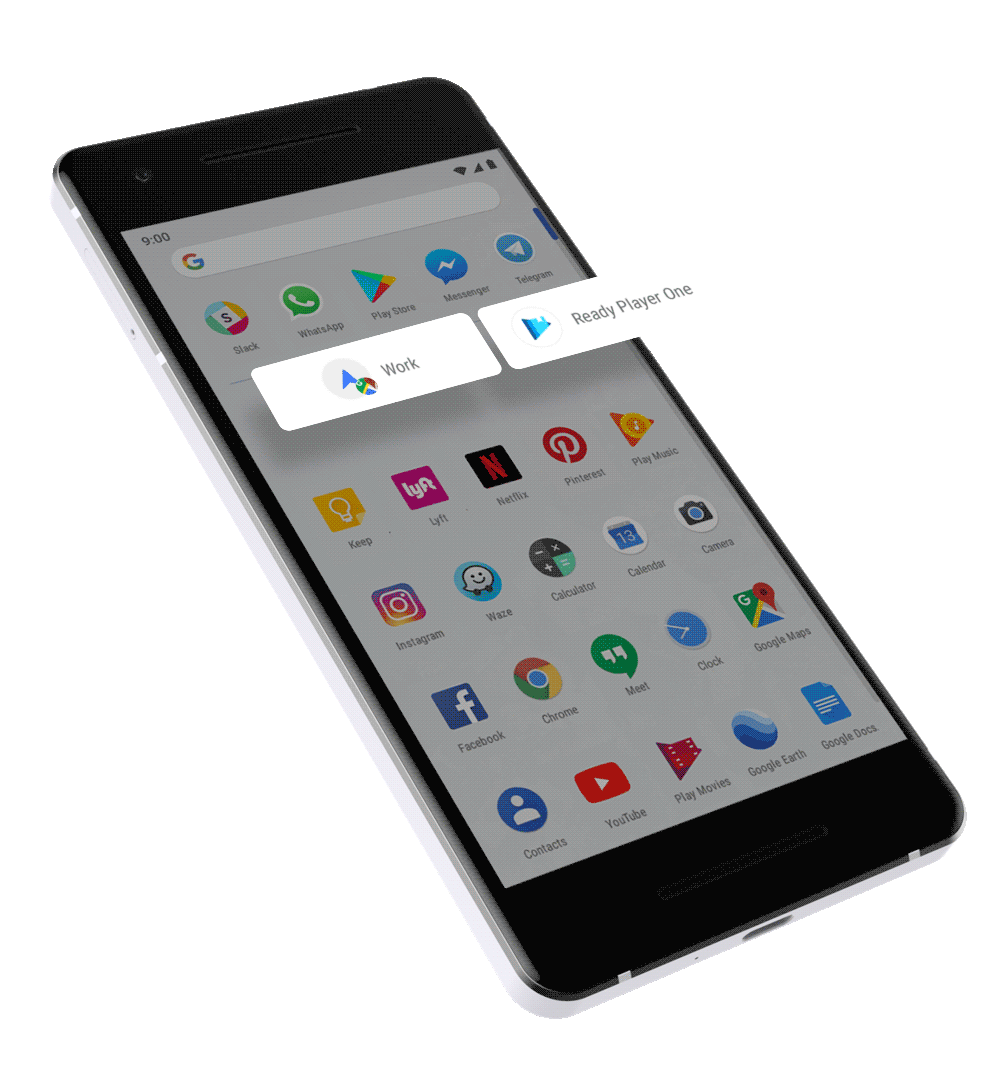 Image - Google
4. Slices
Coming later this fall Android 9 will start including app shortcuts in search results whenever you start a search on your phone. Let's use Lfty as an example. If you search for Lyft you will see app quick links for ordering a ride to work or home, depending on the day and your location. You will also see estimated costs in the shortcuts too.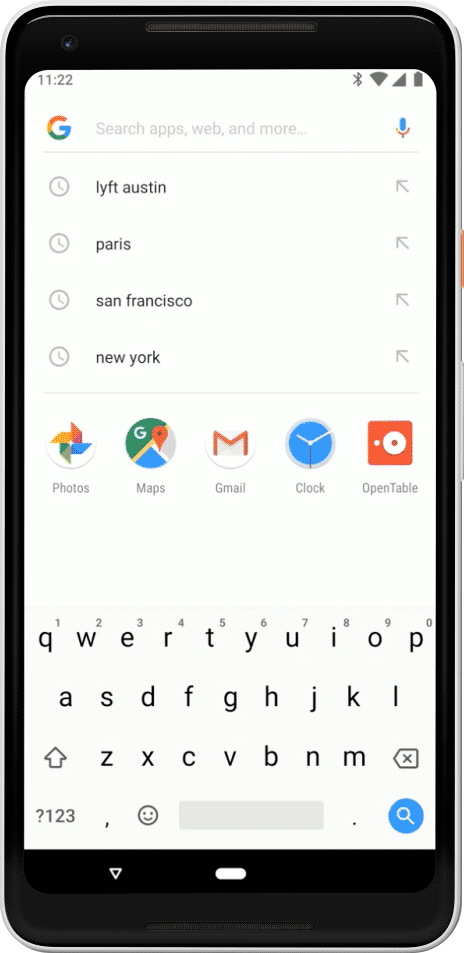 Image - Google
5. Screenshots With One Hand
For most people, taking screenshots on Android phones involves press the Volume Down and the Power button at the same time. This feature has always worked well for most. Android 9 Pie has introduced a new way to take screenshots. You can now just long press the Power button to bring up the power options. Included in those options is an option to take a screenshot. With this feature, you can now take screenshots with one hand.
6. Gesture Navigation
Android 9 Pie introduces some additional gesture controls for users. The newest is the ability to swipe up on the Home screen to see recently used apps, versus using the square overview button. If you swipe up a second time the app drawer will appear. In practice this makes navigation a little bit more intuitive with one hand. Depending on your phone you can adjust this from Settings > System > Gestures menu.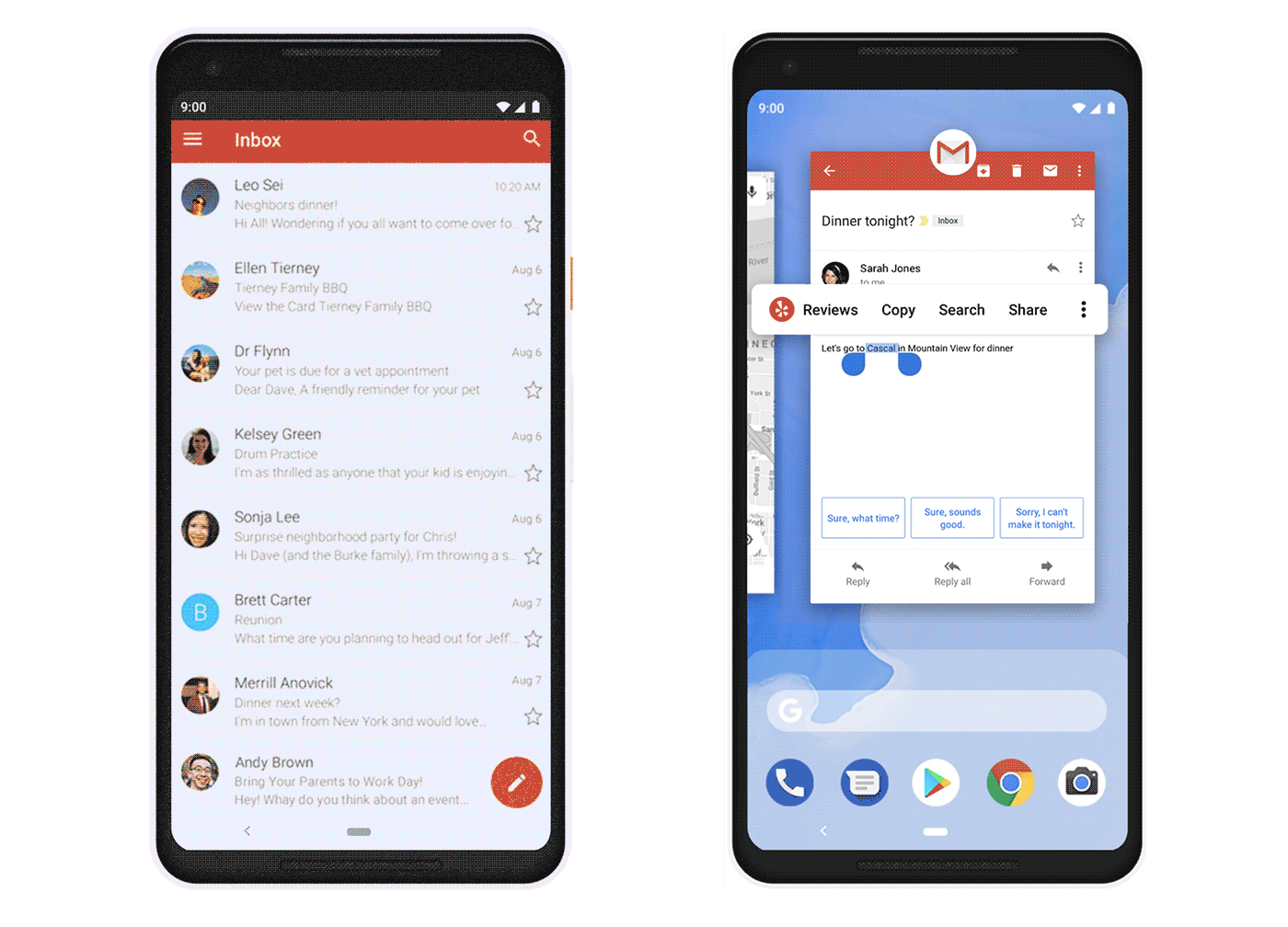 Image - Google
7. Rotate Screen Confirmation
Prior to Pie, users had two options for screen rotation: Auto and Fixed. Those options are still present, but if you have the option set to fixed, Android 9 Pie will prompt you  with a rotation button. This button's location is where the square overview button used to be. This rotation button will appear anytime the system notices the phone's rotation has changed from portrait and landscape.
8. Per Bluetooth Device Volume Memory
One thing I personally struggle with is managing the volume of my media when switching between the Bluetooth headphones I wear at the gym and the Bluetooth audio connection in my car. With Android 9 Pie the device will remember the volume settings last used for each Bluetooth device. It's a simple feature but a powerful one.
9. Smarter Notifications
Over time Android 9 will start to learn which notifications you tend to dismiss relative to the number of notifications you get from an app. If the system determines a certain app is spamming you with a lot of notifications, and you are just dismissing them, then Android 9 will ask if you want to mute said notification. Now you will not see that particular notification anymore. Additionally, under Settings > App > Name of the App > Notifications, you will be able to see a notification count and options to change app notification preferences to mute or on.
10. Improved Do Not Disturb
In addition to silencing incoming alerts, Do Not Disturb mode will now silence all visual alerts as well. This means your phone's display will not light up anymore either. But fear not, any starred contact will still ring your phone, making sure you miss nothing important. Check out Settings > Sounds > Do Not Disturb for all the additional options.
11. Digital Wellbeing
Digital Wellbeing is Google's commitment to Android helping to improve your life and not distract from it. These tools are still in the beta phase, but Pixel owners can try them out now. One of the best benefits is being able to see how you spend time on your phone. You can see which apps you spend the most time with and you can setup limits on usage. Obviously, these limits are easy to disable. But, this is a step in the right direction to help curb phone use and focus on you.
12. Wind Down
An extension to the Digital Wellbeing section is a feature called Wind Down. Many people tend to be on their phones late into the night. Phones screens have a nasty affect on your sleeping habits. With Wind Down you can setup a bedtime schedule. As your bedtime approaches your phone will begin to fade your phone's screen to grey scale, reduce the color temperature (make the screen less blue), and enable Do Not Disturb. This helps prepare you for sleep. When you wake up in the morning, those settings will revert for you.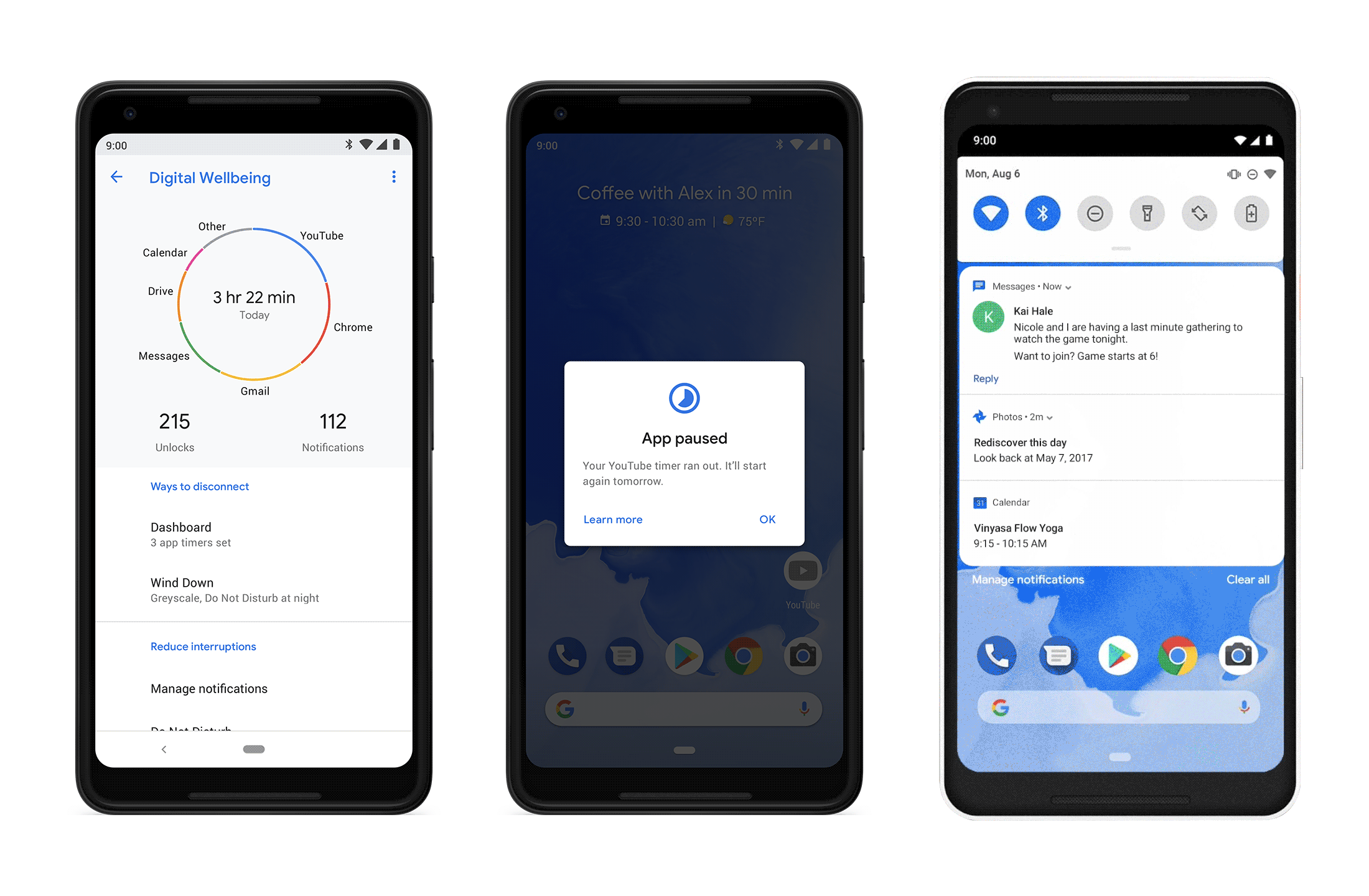 Image - Google