Android 9 Pie is finally here for everyone who own Pixel devices. Then all other eligible Android devices will get the update. I have been running Pie on my Pixel 2 XL for over a week now and here are some of the new features Android 9 Pie bring to your device.
1. Adaptive Battery
Google has been working hard at maximizing battery usage for Android for some time now. The latest step in maximizing your battery is Adaptive battery. Android will learn over time which apps are most important to you and prioritize battery usage for them. This means apps you rarely use will not hog as much battery as they used to in previous versions of Android. With this feature on, low priority apps will see a delay in notifications to your phone. And yes, Battery Saver is still a part of Android, which helps squeeze out as much battery life as possible when your already low on battery power.
2. Adaptive Brightness
Android has always had an auto brightness control, but it only used the phone's light sensor to make adjustments.  Adaptive Brightness is another smart/learning feature for Android 9. Over time, the feature will use ambient light levels, you brightness adjustments, and the apps you use to help build better brightness profiles tailored to your phone use.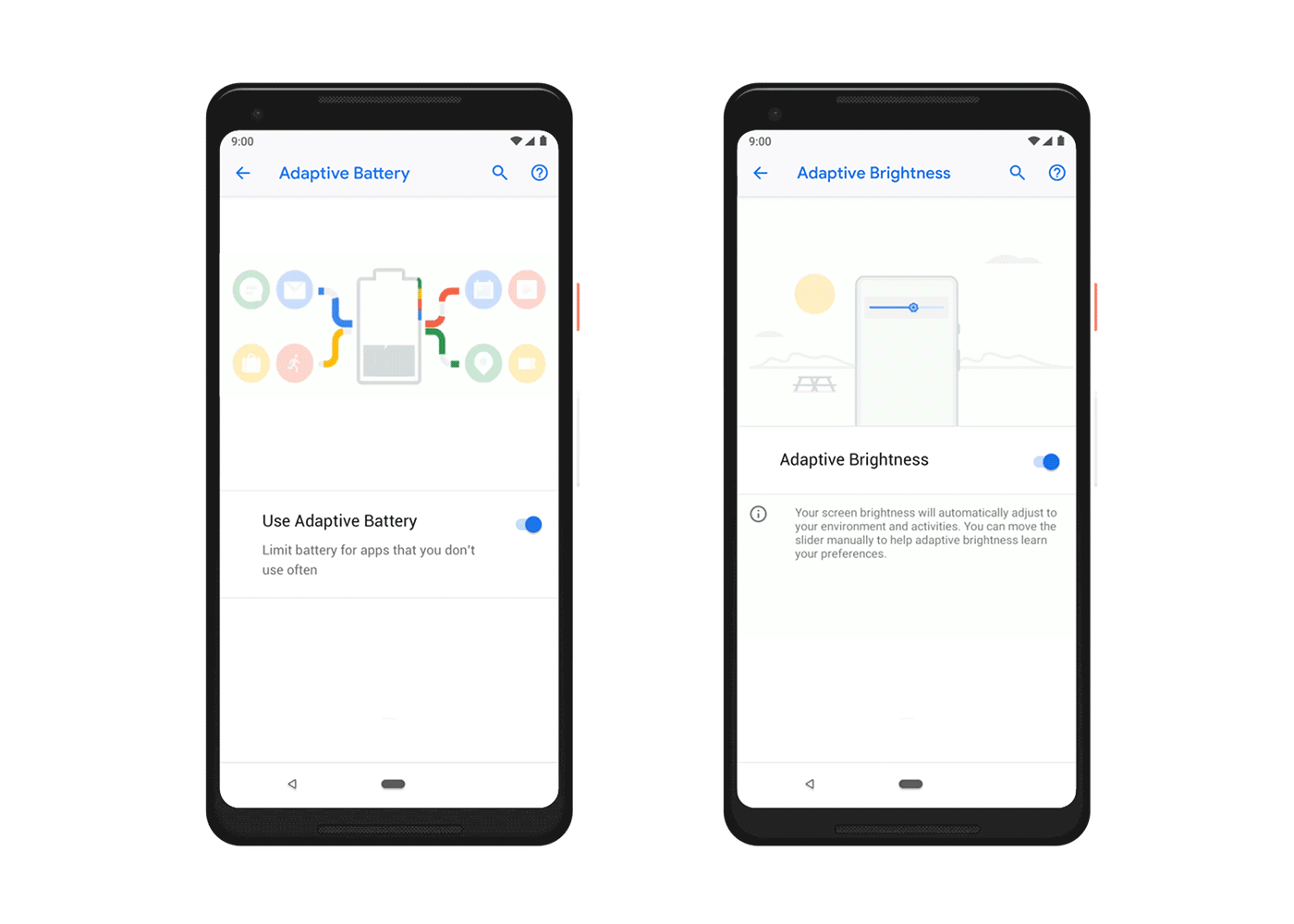 Image - Google
3. App Actions
Android will start creating customized shortcuts, for you, in the app drawer. The customized shortcuts are based on how you use your home. For example, over time Android 9 will learn that Tuesday morning around 8 am you typical use navigation and listen to an audio book during your morning commute. This will in turn prompt Android to start providing app shortcuts in your app drawer for for those two options. Android will also provide a shortcut to a favorite artist on Spotify, or favorite music application, when you connect headphones to your phone.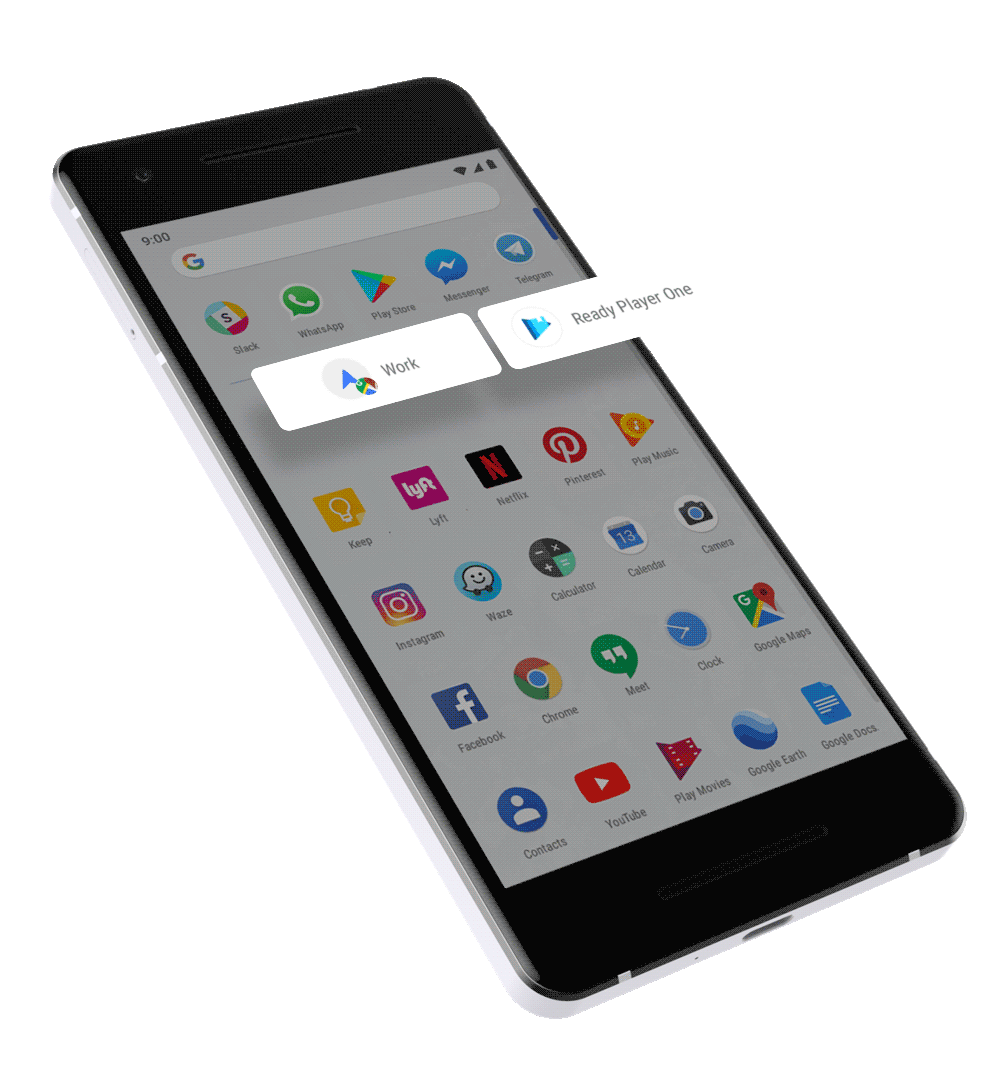 Image - Google
4. Slices
Coming later this fall Android 9 will start including app shortcuts in search results whenever you start a search on your phone. Let's use Lfty as an example. If you search for Lyft you will see app quick links for ordering a ride to work or home, depending on the day and your location. You will also see estimated costs in the shortcuts too.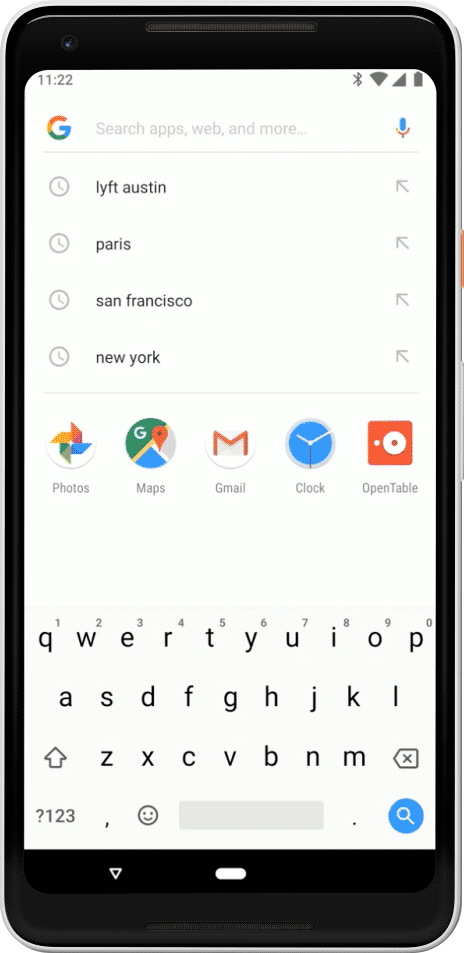 Image - Google
5. Screenshots With One Hand
For most people, taking screenshots on Android phones involves press the Volume Down and the Power button at the same time. This feature has always worked well for most. Android 9 Pie has introduced a new way to take screenshots. You can now just long press the Power button to bring up the power options. Included in those options is an option to take a screenshot. With this feature, you can now take screenshots with one hand.
6. Gesture Navigation
Android 9 Pie introduces some additional gesture controls for users. The newest is the ability to swipe up on the Home screen to see recently used apps, versus using the square overview button. If you swipe up a second time the app drawer will appear. In practice this makes navigation a little bit more intuitive with one hand. Depending on your phone you can adjust this from Settings > System > Gestures menu.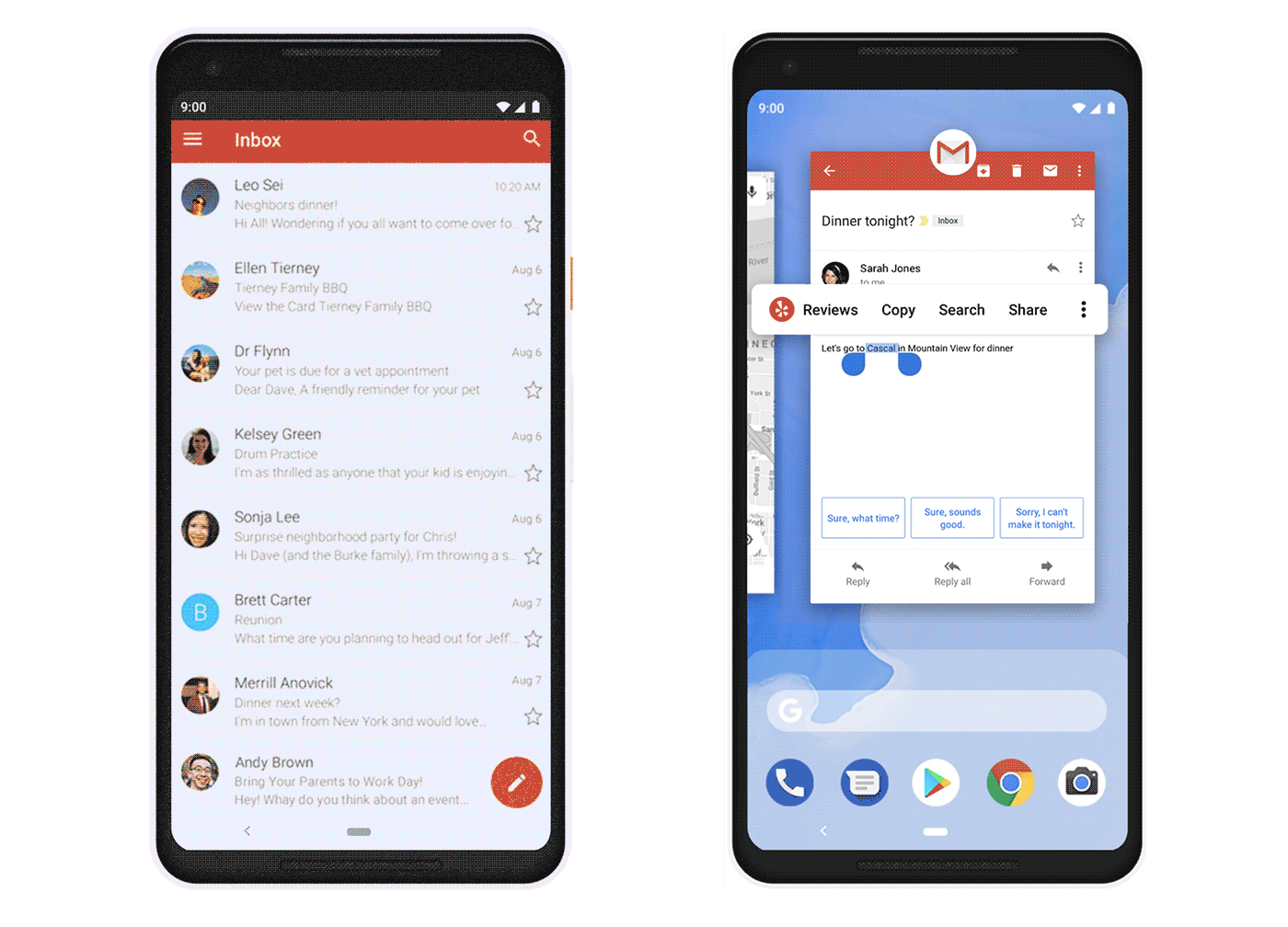 Image - Google
7. Rotate Screen Confirmation
Prior to Pie, users had two options for screen rotation: Auto and Fixed. Those options are still present, but if you have the option set to fixed, Android 9 Pie will prompt you  with a rotation button. This button's location is where the square overview button used to be. This rotation button will appear anytime the system notices the phone's rotation has changed from portrait and landscape.
8. Per Bluetooth Device Volume Memory
One thing I personally struggle with is managing the volume of my media when switching between the Bluetooth headphones I wear at the gym and the Bluetooth audio connection in my car. With Android 9 Pie the device will remember the volume settings last used for each Bluetooth device. It's a simple feature but a powerful one.
9. Smarter Notifications
Over time Android 9 will start to learn which notifications you tend to dismiss relative to the number of notifications you get from an app. If the system determines a certain app is spamming you with a lot of notifications, and you are just dismissing them, then Android 9 will ask if you want to mute said notification. Now you will not see that particular notification anymore. Additionally, under Settings > App > Name of the App > Notifications, you will be able to see a notification count and options to change app notification preferences to mute or on.
10. Improved Do Not Disturb
In addition to silencing incoming alerts, Do Not Disturb mode will now silence all visual alerts as well. This means your phone's display will not light up anymore either. But fear not, any starred contact will still ring your phone, making sure you miss nothing important. Check out Settings > Sounds > Do Not Disturb for all the additional options.
11. Digital Wellbeing
Digital Wellbeing is Google's commitment to Android helping to improve your life and not distract from it. These tools are still in the beta phase, but Pixel owners can try them out now. One of the best benefits is being able to see how you spend time on your phone. You can see which apps you spend the most time with and you can setup limits on usage. Obviously, these limits are easy to disable. But, this is a step in the right direction to help curb phone use and focus on you.
12. Wind Down
An extension to the Digital Wellbeing section is a feature called Wind Down. Many people tend to be on their phones late into the night. Phones screens have a nasty affect on your sleeping habits. With Wind Down you can setup a bedtime schedule. As your bedtime approaches your phone will begin to fade your phone's screen to grey scale, reduce the color temperature (make the screen less blue), and enable Do Not Disturb. This helps prepare you for sleep. When you wake up in the morning, those settings will revert for you.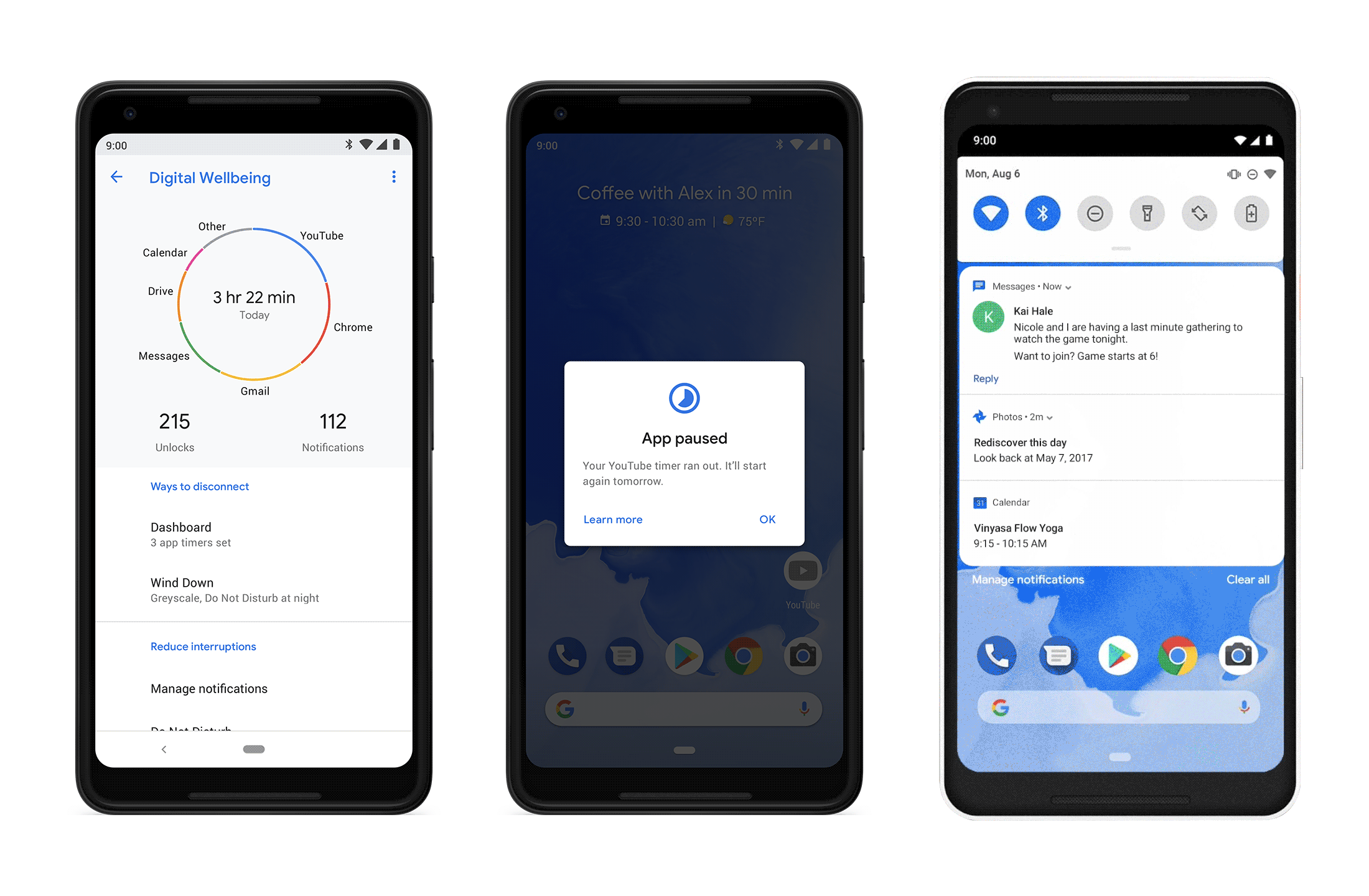 Image - Google