No matter the reason, having people gather around your laptop or computer to show off a video or photos can be a pain. Below are six ways to get your laptop or computer displayed on your TV. The best part? Minimal effort, hardware, and cash required.
1. Chromecast
By far the easiest option is using Google's Chromecast. Any tab from Google Chrome can be cast to your TV. And you have three ways to accomplish this too:
Cast Enabled Website

Open up any cast-enabled website, i.e. YouTube.
Click on the 'Cast' icon in the bottom right hand corner of the player.
Chrome Settings Menu

Select 'Cast' from the Chrome's settings menu, located in the upper right hand corner of your browser.
Select the casting device you wish to use:
Right Click on Webpage in Chrome

Right click anywhere on a webpage and select "Cast"
Note: You can continue to browse the internet by using another Chrome tab. Casting will only occur from the tab you start the cast from.
Casting from the browser can result in some lag on certain websites. With this option, we recommend casting just websites and photos over videos.
2. Roku
All Roku devices come with the ability to Miracast. With this option, you will find it easiest to mirror Window devices vs Mac. Using miracast through Roku is very similar to Chromecast.
From your Windows device:
Open Action Center by clicking the notification icon, on the right side of the taskbar.
Select Connect
Select Roku from the list of available devices.

Your Roku device should be powered on and on the same WI-FI network as your Windows device.
Roku will prompt you for approval of any device that is attempting to connect and mirror content to it. You can learn more about approved devices here.
3. AirPlay
AirPlay is Apple's version of casting/mirroring. You will need an Apple TV to accomplish this as well. All things considered, this is the best solution for Apple users.
Configure your AirPlay device and ensure the Apple device you wish to mirror is connected to the same WI-FI as your AirPlay device. If everything is configured properly then you will see the AirPlay button in your menu bar. From the AirPlay menu, select the device you which to mirror your screen to.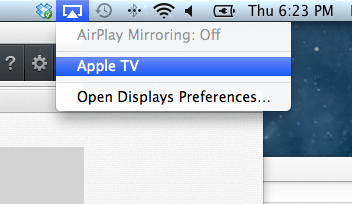 4. Plex
Plex does not actually have any mirroring capabilities, it is a media server. All videos, music, and photos on your computer can be served to your TV via Plex. Plex is a great solution for many people because of support for so many streaming devices.
In order to get yourself up and running, you need to download and install Plex on your computer (Windows or Mac). Thankfully, the team behind Plex have this handy guide to get your up and running. Once you have everything setup, anything you tell Plex to index on your computer should be available on your TV.
5. AirParrot 2
AirParrot 2 requires an Apple TV or Chromecast device in order to work. You will also have to pay for the software, though there is a free trial available. I would recommend giving it a try before you purchase a license.
Once you have the software installed on your computer, it will find all available devices that support mirroring. You also have the option to steam videos, music, and photos to your TV. And you can do so without the need to see the whole computer screen, similar to Plex.
The biggest draw to AirParrot 2 is the ability to mirror to multiple devices at once, high quality streaming, and you can mix and match streaming devices. So, your Windows PC can now stream to your Apple TV or your Mac can stream to your Chromecast.
6. Cables
This is the easiest solution for most people. Take an HDMI cable and connect your laptop or PC to your TV directly. The connection is fast and stable, guaranteed. Once you connect your computer to your TV, your computer should prompt you, almost immediately, with an option on how you want to use your TV. Treat the TV as an additional monitor? Check. Duplicate your computer's screen to you TV? Check.
Both of the above options are available for Windows and Macs. If you have any issues or would like to switch between extending to your TV or duplicating your computer screen, just look below:
Windows

Right click on your Desktop and select 'Display Settings'
Scroll down to 'Multiple Displays' and select the display option you prefer

Mac

Go to Apple menu >System Preferences, then click Displays.
Select 'System Preferences' from the Apple menu.
Click the 'Displays' option
Select the 'Arrangement' tab and select the display option you prefer
One thing to note is that many ultra thin and small laptops will have limited or no HDMI ports. If that is the case, then you will need to buy an adapter for your USB/Lighting port. In the end, if you need to keep the lag between what you see on your computer and your TV low, then this is the best option.